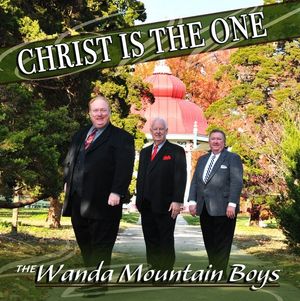 The Wanda Mountain Boys have just released their latest CD project, "Christ Is the One".  This new recording is the first to feature the group's newest addition, baritone singer, Ron Mitchell.  The project contains 10 new songs from the St. Louis area based trio. 
Each of the group's members contributed songs to the project.  Ron is featured on his song, "What A Day of Glory".  Rick and Gary co wrote the song "Strike Up the Band" and Gary is featured on the lead.  "You Don't Need the Troubled Waters Anymore" features and was written by Rick Brown. 
You will be blessed by the songs on this project.  Bill Schell has written a powerful song, performed by WMB, "I'll Pray for You".  The Daryl Williams and Jerry Salley song,  "Empty Benches", will take you back to days gone by, especially if you grew up in a rural church.   
Visit the Wanda Mountain Boys website at www.wandamountainboys.com to order your copy today.